It's finally here! Walk Don't Walk is a real book in the real world.
This has been a mammoth task, and of course it took much longer than we expected, but we're thrilled to announce that Walk Don't Walk is OUT NOW.
Walk Don't Walk is a collection of diverse new work by some of Scotland's most exciting artists, comic makers and illustrators, with everything from narrative illustration to genre-bending artwork.

Sustainably riso printed using 10 inks, 18,000 sheets of paper and 144,000 print passes, Walk Don't Walk pushes the limits of riso production and celebrates a new generation of creativity.
The sheer scale of the printing involved means that this is a strictly one-off publication, limited to a run of just 500 copies, and priced at just £15. All profits are re-invested in our creative programme meaning each purchase helps to further our work supporting young artists.
In case you need any more convincing, here's a sneaky peek at some of the phenomenal artwork inside:
Sophie Robin
Sophie's little fantasy worlds are an absolute dream. Her colour layers are so sophisticated, look how many shades she can make out of just three inks! We've been working with Sophie for nearly 6 years now – you might remember her zines with long-time collaborator Eli Spencer, featuring Goats, Dragons and Demons. All brilliant.
Printed in yellow, blue and fluo pink.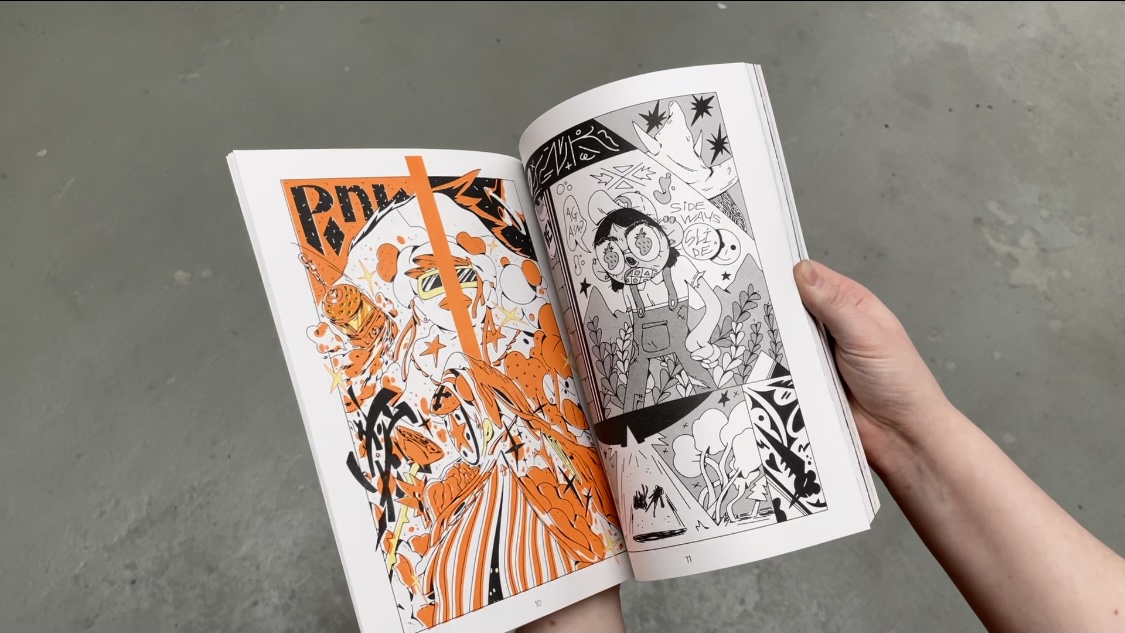 Konstantinos Moutzouvis
Chaos is everywhere in Konstantinos' work, and we can't get enough. Whether they're working in black and white or full punchy colour, these comics are busy, hectic and full of explosions. If you look closely, some recurring imagery pops up – lately we've been seeing lots of masks and obscured faces, so make of that what you will.
Printed in orange, yellow and black.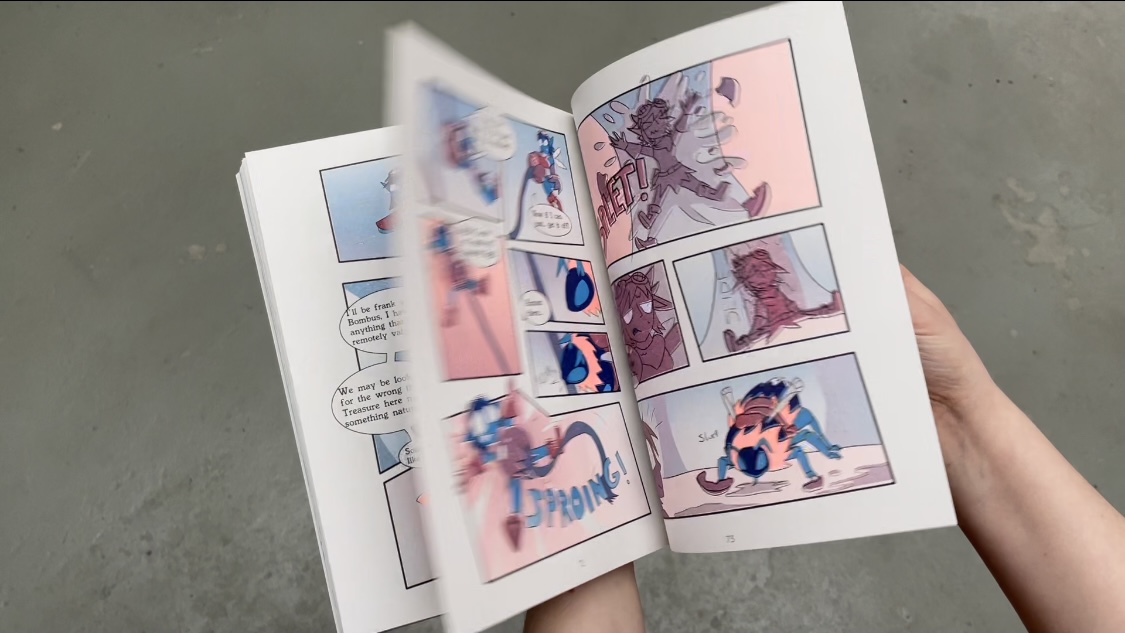 David Baillie
This brilliant comic artist was one of our first-ever trainees. David's short comic Blueberry takes us on a treasure-hunting foraging adventure, with an icky sticky end. We love his classic comic captions (SPROING! SPLET!)

Printed in purple, blue, black and fluo orange.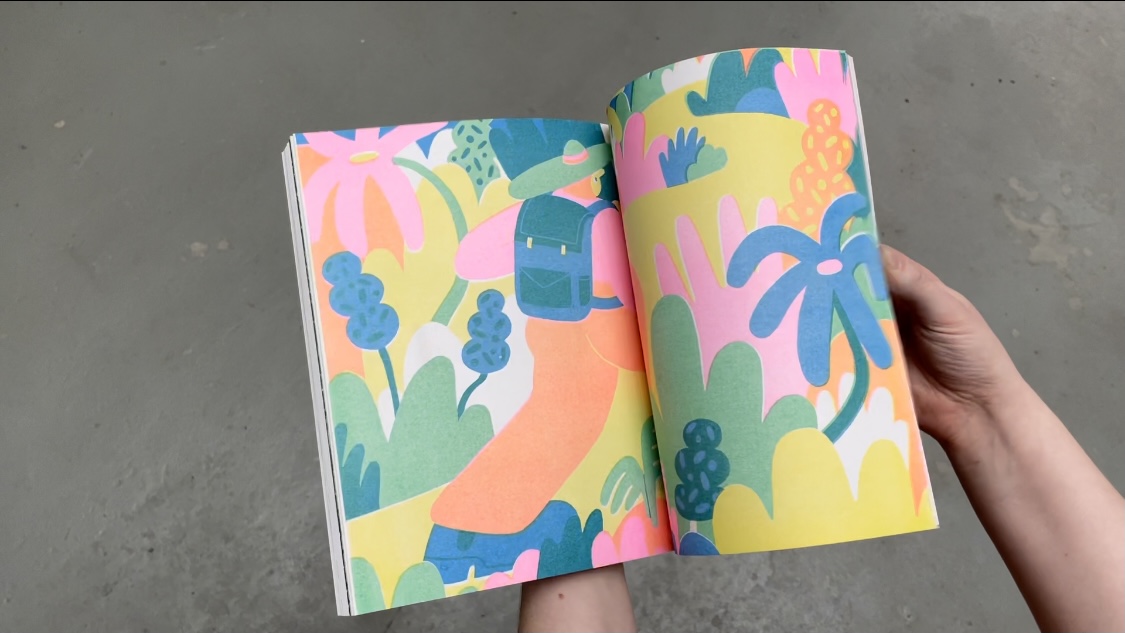 Lauren Morsley
It's always a joy to print Lauren's work – her prints are always so bold and colourful! Her work in Walk Don't Walk reflected a lot of lockdown frustration (stuck at home, bored and living off tins – remember those days?). We really enjoy this final, hopeful spread of a character striding out into the wilderness. Lovely.
Printed in yellow, blue, green and fluo pink.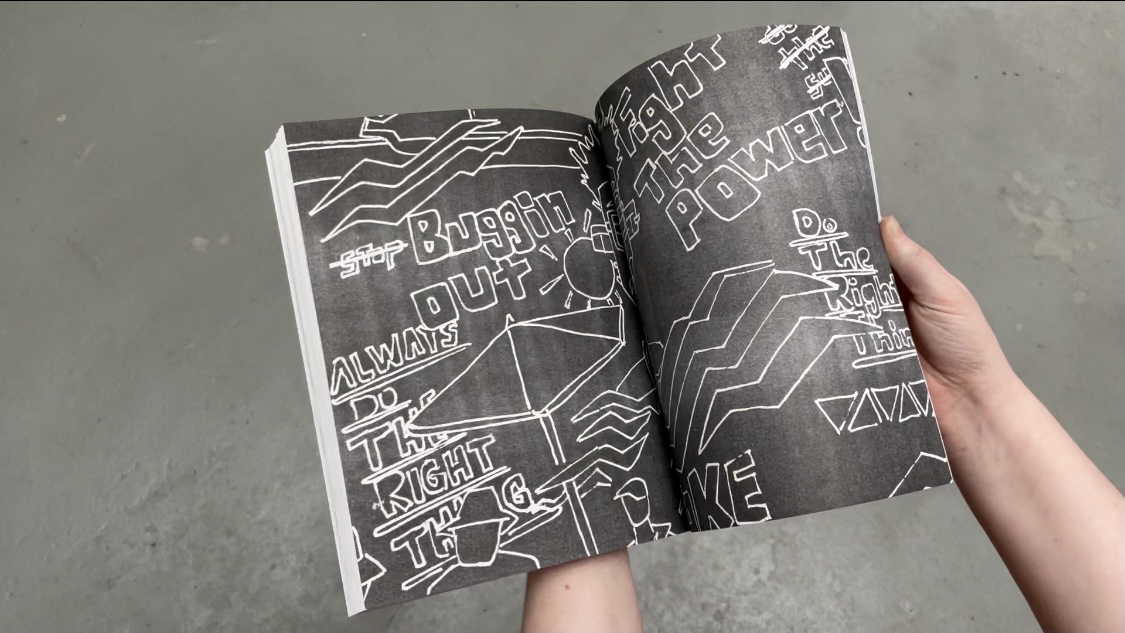 Andrew Kiwanuka
We first came across Andrew's work through his "We Exist!" series celebrating Black culture. For Walk Don't Walk, Andrew was inspired by Spike Lee's film Do The Right Thing, examining race, police brutality and gentrification.

Printed in black ink.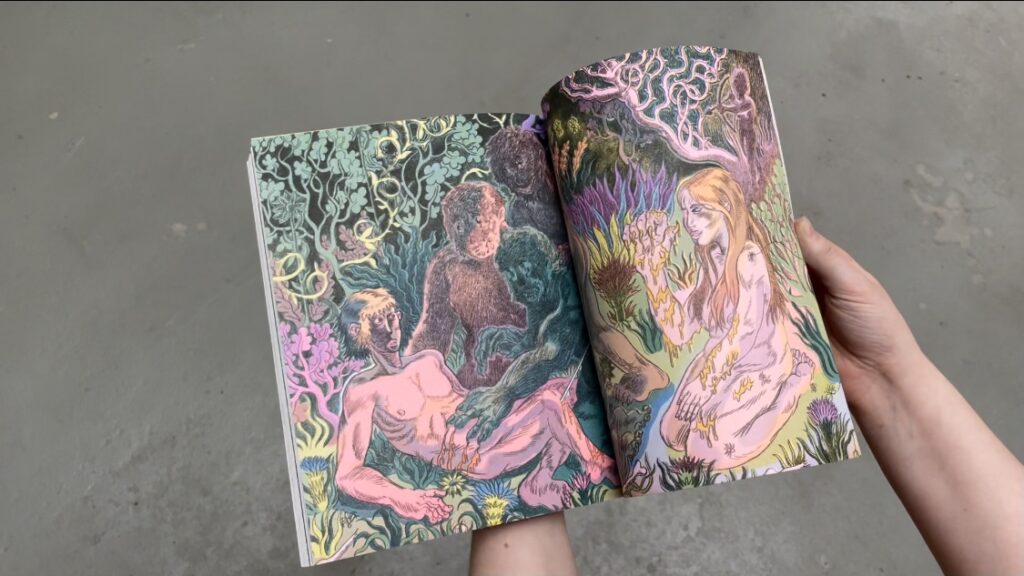 Nat Walpole
One half of Power Couple Press, Nat is a self-publishing pro. Their work explores gender and sexuality, through oozing grotesque bodies and unsettling natural forms. You can get lost for hours in Nat's intricate images and come out questioning everything. Try it.
Printed in yellow, blue, fluo pink and black.
And that's not all! We've also got work by Aki Hassan, Nicola Henry, Matt Gow, Jules Scheele, Allolune, Lord Zom, Maria Stoian, HAM, Alistair Smith, Eli Spencer, Amy Dunne, Aoife Scott and Smex.
Walk Don't Walk is a limited edition of 500 copies and we're hoping these will fly off the shelves, so get yours quick!
We hope you love it as much as we do.