My name is David, and I did a traineeship in the print studio in…2016/2017, I believe? Whilst I don't remember much of it looking back, apparently it was so good that I have ended up coming back nearly every Tuesday after I left! I come in to have my lunch, then pop into the studio to see what's happening, and do some drawing.
I do remember helping Bethany with the printer, and organising things before they were printed. I hadn't done any printing before then, or at least it was the first I'd seen for purely art stuff, but I really liked the style when it came out.
I did do some drawing at home back then, but I wasn't very good. I liked doing it though, and would mainly draw lots of characters at home whenever I could. Mostly the same stuff that I do now but worse!
"I hadn't done a work placement before but I enjoyed working in Blueprint. The managers are nice and supportive and they've given me advice on the projects I've done since with the print studio, like my comic Dreamscapers."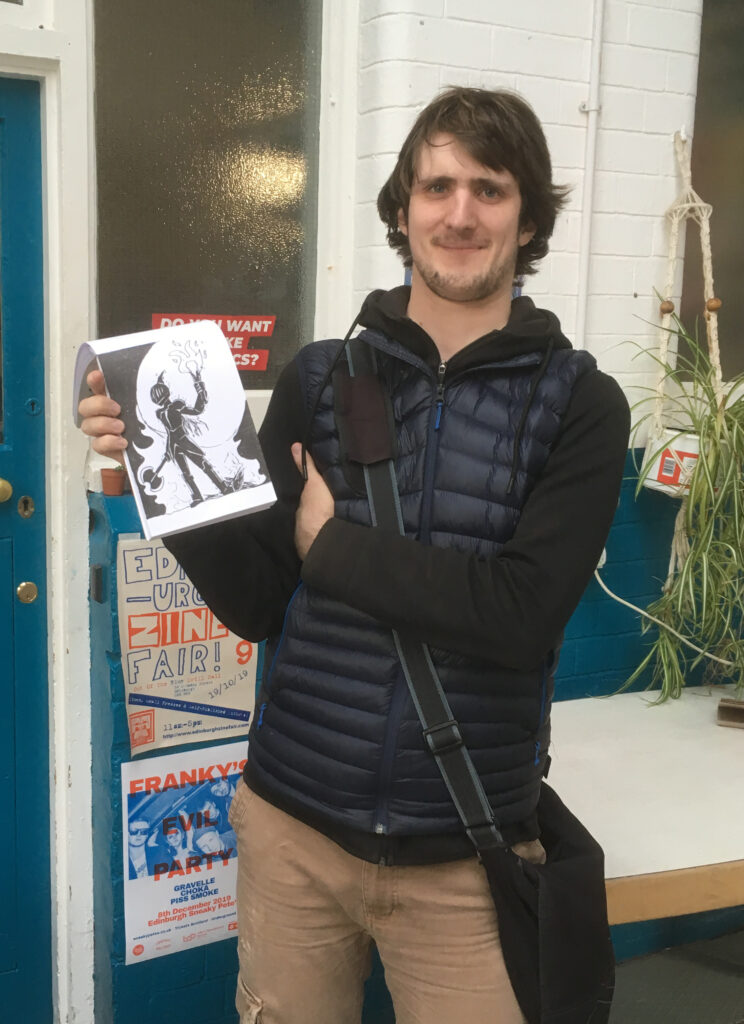 I'd wanted to make a comic for a while but hadn't got round to it. Finally there was this comic event fair thing they were organising and Johnny set me a challenge to make the comic as I could sell it – a money incentive! I made use of a lot of my old characters, that I didn't know what to do with. It's basically a fantasy look, my go-to thing, with the main character called Lucy. I had the idea of the general world, but wanted to throw some stuff out there, see what I could do – like how to do fight stuff, dialogue, build up, etc. It was very time consuming but I felt like I put out a decent comic in the end.
Also when you're at the studio, you might have a chance encounter with another artist and share your ideas or just chat. I met an artist, Brian, there and now I'm going to do some drawings for him. I'd seen his Dungeons on a Dime project and thought, this is neat.
Overall would recommend the traineeship. I've put 2 comics of my own out there with Out of the Blueprint with reasonable results, so it's a good place for aspiring artists to get a start.
What's next? Well, I'm doing Inktober – where you do a drawing everyday, responding to a prompt online. I'd thought I'd do a spin on that, and so am doing knights in shining armour, or unshining armour, and posting them on Twitter.
I feel like I'll keep making art and showing it off to people, or at least until it gets boring or when the planet becomes too polluted to support humankind, whichever comes first!
David's comic Knightmare is available in our web shop.