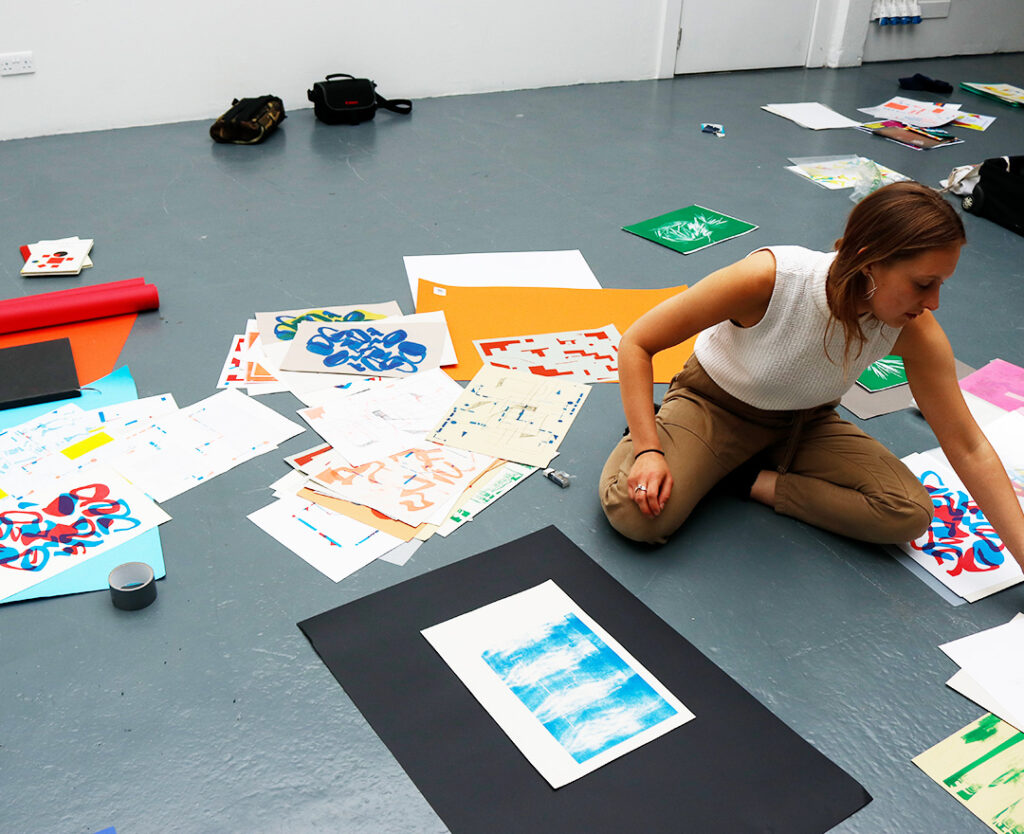 Out of the Blueprint's residency programme is now open for applications from young people aged 18-24.
We are currently looking for 2 artists-in-residence for the year 2021-2022: visual artists, illustrators, graphic designers, printmakers or other creative individuals who are interested in the riso print process.
Out of the Blueprint recognises the positive value of diversity, and wishes to amplify the voices of those who are underrepresented. We welcome and encourage applications from people of all backgrounds.
About the residency
Each artist-in-residence is provided with studio space with The Drill Hall, as well as access to the Blueprint studio to create and develop a body of work using the riso / gocco machines.
Our residencies emphasise exploration and an open-ended playful approach, encouraging artists to push the boundaries of their creative practice and embrace the unpredictability and freedom of the print process.
The residency will give each artist the chance to work towards an exhibition at Out of the Blue Drill Hall, presenting work-in-progress alongside finished pieces.
For full details, please view the PDF below.
Proposed dates
The residency is modelled on 20 working days. This could be full-time at 5 days a week for 4 weeks, or part-time (eg. 2 days for 10 weeks) to fit around your other commitments.
residency 1 dates: 15th November 2021 – 31st January 2022
residency 2 dates: 1st February 2022 – 31st March 2022
Residency fee
Each artist-in-residence is offered a fee of £1975 (based on the Scottish Artists' Union recommended 2021 residency rate for a new graduate artist of £25,758 pro-rata) with a further £250 available to cover materials costs such as paper, inks and masters.
Deadline
The deadline for applications is at
12pm (midday) on Monday 27th September 2021
Artists-in-residence will be chosen a panel of 3 Blueprint staff and 3 young people. Decisions will be communicated by Friday 1st October.
To apply please follow the link below. You will be asked to upload your CV and up to 6 images of your work, so please have these ready.

"I cannot emphasise enough how much of a difference to both my creative practice and my personal development working at Out of the Blueprint has had for me. The experience of the residency was electrifying as my making process developed, and an 'anything is possible' mentality was encouraged."

Lucy Grainge, former artist-in-residence
---
Out of the Blueprint's residency programme is funded by the Scottish Government's Youth Arts Fund through Creative Scotland.